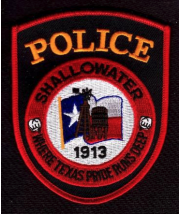 Shallowater Police Department
Police Chief: Brian Williams
607 Avenue G Shallowater, Texas 79363
Phone: 806- 696-4225 (Non-Emergency)
Fax: 806-696-4259
Email: bwilliams@shallowatertx.us
Our Mission
As law enforcement officers, our fundamental duty is to serve the citizens of Shallowater, to safeguard lives and property; to protect the innocent against deception, the weak against oppression or intimidation, and the peaceful against violence or disorder; and to respect the constitutional rights of all men to liberty, equality, and justice.
FOR EMERGENCIES DIAL: 9-1-1
WHO DO I CALL?
For non-emergencies call: (806) 696-4225
If you do not live inside the city limits please contact the Lubbock County Sherriff's Office at (806) 775-1480.
---
HOUSE WATCH/ CLOSE PATROLS
It is our goal to provide the city with the most professional service. Part of that professional service is the protection of personal property. In order to assist our community, the Shallowater Police Department can and will check the exterior of your residence when you are gone on vacation, or any other time you have decided to get away.
Additionally, from time to time we have suspicious circumstances that occur and property owners are in fear of potential criminal acts against themselves. This is a great opportunity to ask for a "Close Patrol" of your residence or business.
When you are ready to ask for a House Watch or Close Patrol, simply call City Hall or the Shallowater Police Department during normal business hours at (806) 696-4300 or (806) 696-4225. You may click on the link to fill out our Close Patrol Form, print it out and bring it by City Hall and it will be routed to our department accordingly. Forms are also available at City Hall.
As a friendly reminder, please remember to close your garage and lock your vehicles and to make sure your guns or other valuables are not visible if you keep them locked in your vehicle.
---
HOW DO I GET A POLICE REPORT?
The fee for a police report is $5.00 and it must be paid at City Hall. Once you have your receipt the Police Chief or Lieutenant can print you a report. If you have any questions please contact City Hall at 806-696-4300 or the Shallowater Police Department at 806-696-4225 during regular business hours Monday- Friday from 8:00 a.m. -5:00 p.m.